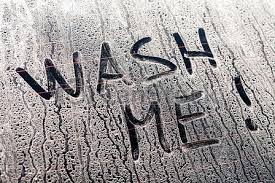 The season of mists and sprinkling saltiness is now upon us. This time of year, mud, drizzle and the start of the road-salting season all prove a challenge to keeping the paintwork of our vehicles shiny. There are good practical reasons to keep your car looking like your pride and joy.
That layer of grime, salt, tree sap and road grease will dull the paintwork if left undisturbed.  The caked-on chemicals gradually eat into the ultra-smooth top layer, making it rougher at a microscopic level, which stops that glossy showroom sheen.  The move to eco-friendly paints used by the car manufacturers these days are low odour and the ingredients much less harmful.  However, they are also softer than their toxic predecessors and very prone to being permanently marked by bird droppings that are left on for any more than a couple of days and the build-up of dried on road spray.
A thorough wash will stop that action and even if the car gets covered in road dirt the following day, the dulling process will take time to re-start.  If you polish it as well, the new look will last even longer as the polish acts as a barrier between the paint and the dirt.  Regular washing will keep the car looking new underneath the dirt for much longer! Perhaps your car has had a ceramic-coat paint protection professionally applied to your vehicle when first registered. (A ceramic-coat paint sealant leaves an extremely durable and high-gloss finish which prevents pollutants from impacting the car's paintwork and does make cleaning much easier.)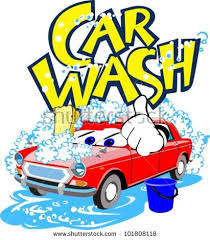 So, you face two choices. If you really can't stand the thought of getting a bucket and sponge out, a hand car wash near you is one of the best value things a fiver will buy these days; maybe a couple of quid more if you have an SUV. They often do an excellent and thorough job – wheels, door shuts, tyre shine and all. And, of course, there is always the local automated car wash technology which has improved in leaps and bounds in recent years.
Alternatively, the bucket-and-sponge option can be satisfying and it is very healthy exercise!  Various estimates fly around the internet, but burning about 300 calories by washing a car and anything up to 1,000 if you polish it as well, seems a common view. (Isn't it amazing the information that is available on the internet!)   
Use a proper car shampoo, NOT washing up liquid.  Fill a bucket with hot water (and wear rubber gloves to protect your hands from the cold.) and don't overdo the shampoo – too much and you'll have lots of streaks. Wet the car body all over first, to soften the dirt, then plunge in with the sponge.  Start with the roof and end with the wheels, then rinse off, stand back and admire your work.  Use a leather or microfibre cloth to dry it – or just go for a drive for a couple of miles. Finally, get a cloth, open the doors, wipe the sills and door shut areas and enjoy the smug feeling as you look at your gleaming pride next to all the mud spattered, salt encrusted neighbours . . . until the next day, of course, when your car will be indistinguishable from the rest.  But you had some healthy exercise, the dirt isn't eating away at the shine and anyway, you know it's gleaming underneath the dirt.
Please let the world know: