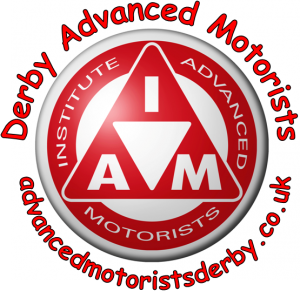 The Institute of Advanced Motorists is a non profit making organization founded in 1956. Our aim is to improve road safety through driver training programs. Membership of the Institute involves passing the prestigious Advanced Driving Test.
The Derby group, formed in 1976, offers training leading to Advanced Test standard. Training progresses at the individuals pace although we usually get drivers up to test standard in less than twelve hours on the road.
In 2016 the IAM was rebranded as IAM Roadsmart. At the same time several new initiatives were introduced including new training material and the F1rst achievement for exceptional associate drivers and riders.
Training is not expensive and can be booked through IAM Roadsmart. Look for the Advanced Driver Course. See this page for an introduction to test preparation.
To find out more about the group please contact us by email or you can drop by at our next Sunday run.